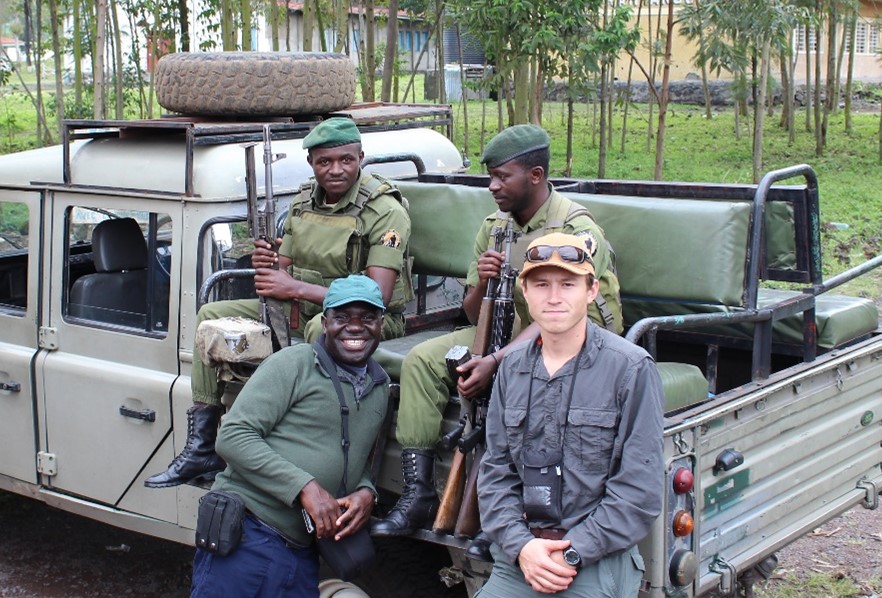 19 Oct

Volunteering – 'Traveling to DRC'

Read Dennis Lyamkin's account of being a volunteer and visiting DRC for the first time with the team in 2019.

"I have dreamt of going to Africa since I was a boy. The great savannas, misted gorges, and the dense forests that I had seen on television, but when in 2019 I was invited to join the team on a trip to DRC to deliver a feasibility study, I could not have imagined the true adventure I was embarking upon.."

The Journey

It was the middle of the night when I landed in Nairobi from America, I had been traveling for 24 hours and couldn't grasp just how far I'd ventured from home. I started in Montana, landed in San Francisco, then on to Istanbul, arrived in Kenya, connected in Uganda, and finally to Rwanda. On the very last leg of my string of flights was I finally able to see the African landscape below me, amazing!

Rwanda is known as "The Land of Many Hills", as the sun rose over the horizon, I could see the shores of Lake Victoria and the lush green rolling hills of the Rwandan countryside. "Good morning, Africa", I thought. The connecting flight was short, not much longer than an hour in the air from Entebbe. I landed in Kigali without friends or family by my side, without most of my luggage which had missed being transferred, but also without fear for I knew that no matter how things played out, it would all come together.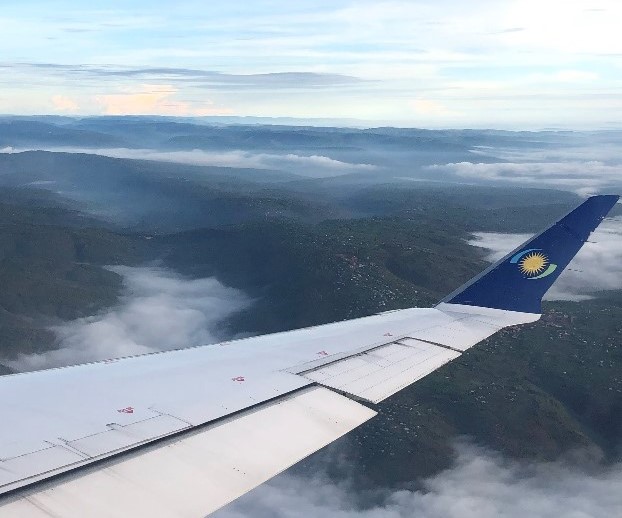 By the time I got into the driver's vehicle at the airport, the tropical city had come to life. The air was warm and humid. Driving through a small section of the city, I began experiencing a bit of culture shock. There were scooters and mopeds all around, buzzing past without seemingly no sort of order. This quickly became a familiar sight and I picked up a method to the madness of Rwandan traffic… all you have to do is honk your horn!
We arrived at my accommodation and after resting for a while, I cleaned myself up and smoked a cigarette on the balcony. I thought, "I can't believe I'm actually here". The homes surrounding the hotel compound were small and housed people who relied mainly on subsistence farming. Looking across plots of land growing banana forests, I could hear all the sounds of everyday life. Beautiful music played into the air and from household to household, you could hear conversations, clanking pots, and laughter. It was wonderful.
Soon it was time to hop back in the car and meet my colleagues, Sonya and Charles, at the airport. It was easy to find them, since I was familiar with how they looked. "Hello my friends!" I exclaimed. We embraced and congratulated one another for a safe journey, followed by an evening of conversation, laughter, storytelling and my first taste of African spiced tea.
The next day, we met with Armel Mugenzi from Challenges International, who was working with our charity on the feasibility study. After sharing a meal and exchanging ideas, we headed for the DRC-Rwanda border at Gisenyi. The countryside on the way was stunning; there were miles of rolling hills and valleys as far as the eye could see.
Midway to Gisenyi, we stopped at a local fruit stand and purchased a bagful of exotic treats: passionfruit, physalis (cape gooseberries), and tree tomatoes (tamarillo). I couldn't stop reaching back into the bag!
As we crested a hill, the horizon opened to the great Lake Kivu. We had finally arrived at the border region. After checking into the hotel, Charles suggested that we walk around the neighborhood. We strolled down an avenue and I took pictures of a couple of birds perched above.
I remember Charles calling to me: "Dennis, look who it is". Walking towards us was our friend and PRWOP Project Manager Jean-Pierre with his colleague Harry. I knew that we were linking up with them later that day, but I didn't know that we were walking to meet them at that moment, and neither did they!
We all embraced, laughed and welcomed one another. "You are the hero!" Jean-Pierre repeated to me as he shook my hand, pleased I had made the journey.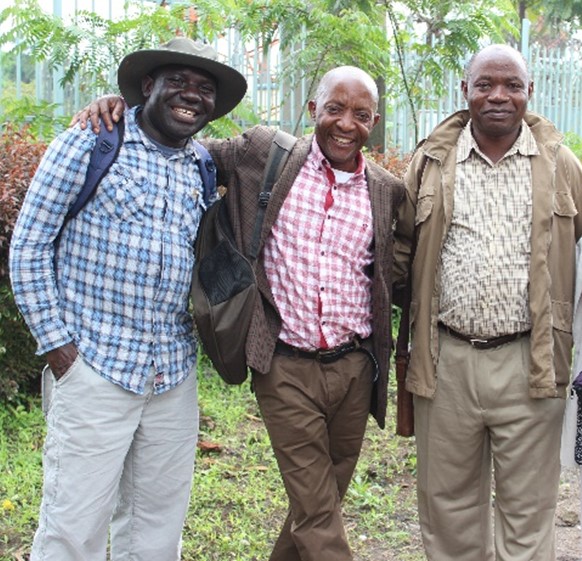 Passing giant fig trees, we casually strolled along the shoreline of the lake, catching up and discussing our trip objectives. I picked a fig and bit into it, spitting out the tasteless piece of fruit soon-after. "Why doesn't it taste good? Is it not ripe?" I asked. "That's the wrong one!" my friends told me. Apparently, that wasn't an edible fig. I was learning fast!
We walked past a sign cautioning folks of the danger of Ebola and Jean-Pierre reassured us that the virus was being actively contained and that we should not be fearful. Although Ebola was the last thing on my mind (unlike for my family), his demeanor was calming. After a well-prepared meal we laughed and shared a platter of Sambasa, a small minnow-like delicacy that was fished from the lake. After eating so much of it throughout my time in the DRC, I quickly realized just how much Jean-Pierre adored the dish… and why!
I recall sleeping poorly that night. My nerves were acting up as I put pressure on myself to do the job I came to do well. It was late when I stepped out of my room to make a few phone calls to family and friends. Through the dark, I noticed a red glow not far in the distance. It was the reflection of Mt Nyiragongo's lava lake onto the clouds above. Summiting the volcano was on the agenda for the following day.
"Where am I? Is this real? Can I do what they expect me to do? Will I do it well?"
We had an early start in the morning, and I was committed to being timely, ready for the team's schedule. After a rushed meal and slamming as much instant Nescafe coffee down as I could, we hopped into the cab and rode no more than a couple of miles to the border. Soon we stood in line in the immigration office and waited patiently for someone to approve our entry.
Sonya looked a little nervous. I figured we had already made it through, but I didn't realize that our entry into the country, even with all I's dotted and T's crossed, could still be complex. But we soon got the green light and ran over to the Virunga tourism office inside the customs building to sign our forms and go on our way.
Jumping into the back of a military-style truck only a few minutes passed before we were immediately at the center of Goma's traffic insanity. The city was visibly different than any parts of Rwanda that we had visited in the days prior. I had become accustomed to the ways of Kigali, but I felt another wave of culture shock in the DRC. I fixated on the scale of poverty and run-down structures that were all along the roads in the city.
Then, I heard Charles exclaim "Wow! Isn't it beautiful?". My thoughts changed on a dime, and I felt my discomfort lift with Charles' approach and perspective. What I thought was scary and sad, suddenly changed. The city had a rhythm that was completely different than the world that I knew so well in the West.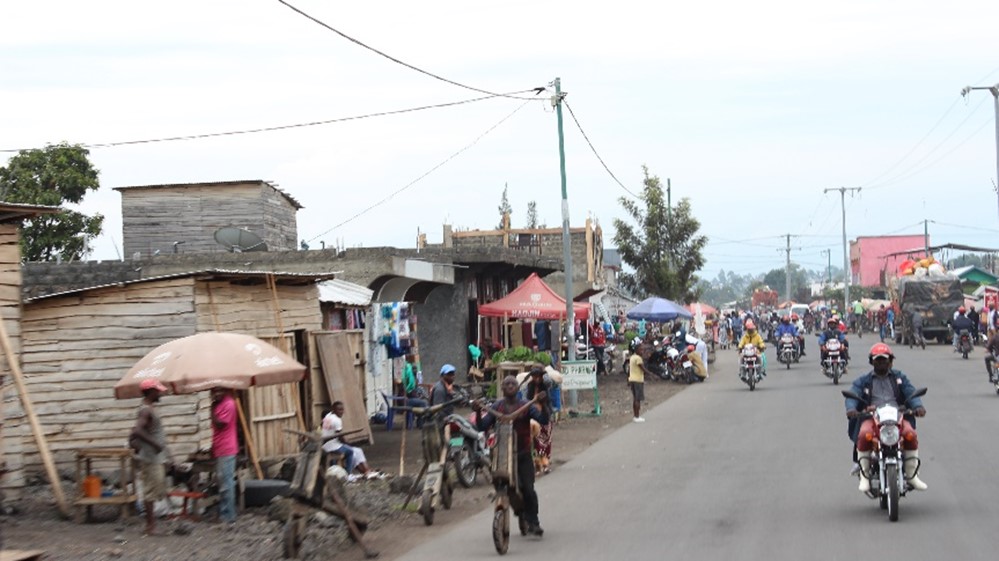 We headed to Virunga National Park immediately from the border. The trek up the volcano was difficult. A few kilometers into the hike, Sonya and Charles decided to fall back and return to town. I felt torn about continuing to summit, but my team reassured me that it was something I should do. So, we walked.
This was my first field-experience with rangers from the ICCN (Congolese Institute for the Conservation of Nature). The trail up to Nyiragongo is rough and was the scene of a terrible incident the year before. However, the rangers and porters made sure we were safe and comfortable.
I shared the journey up the volcano with strangers but by the time we reached the top, I was surrounded by friends. Although my team had returned to the city and could not continue alongside me, I never felt alone.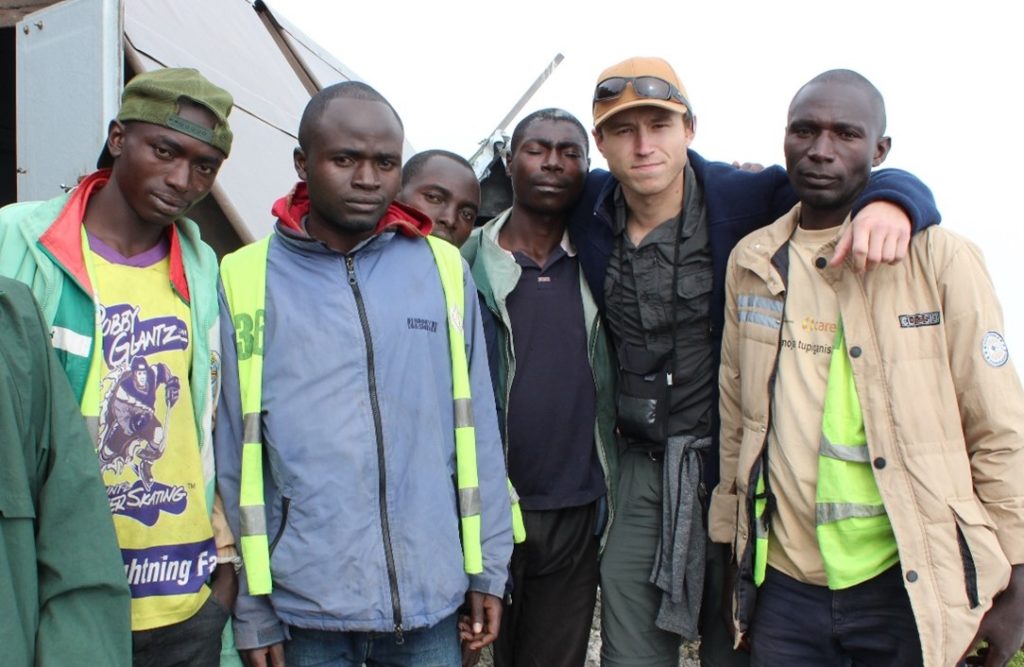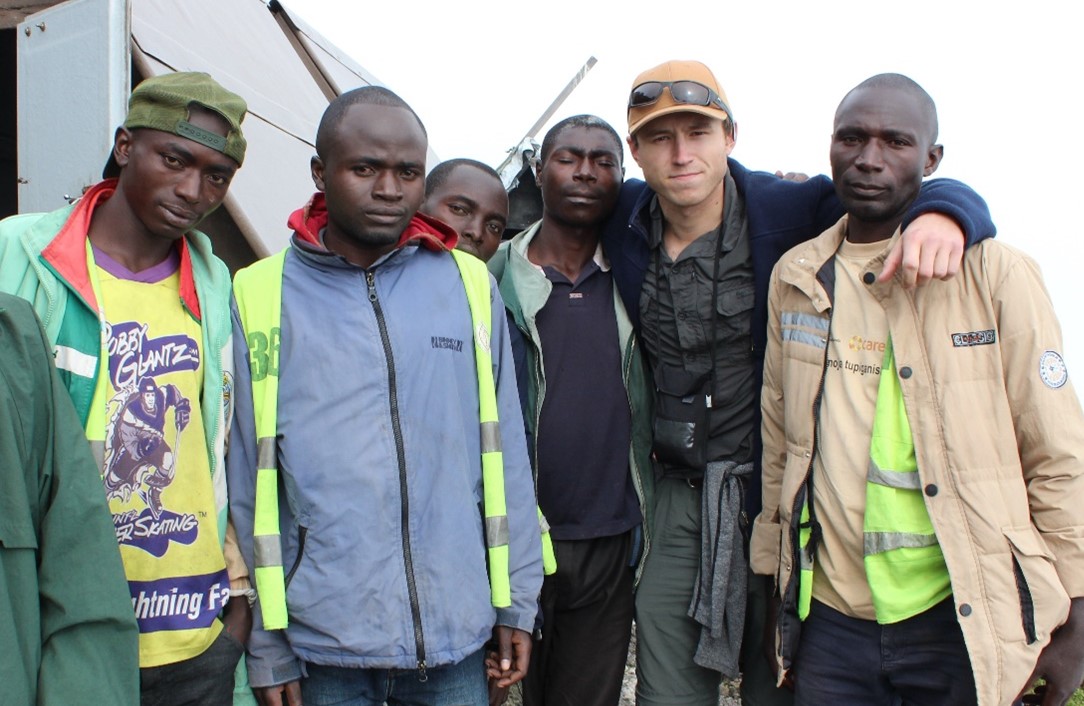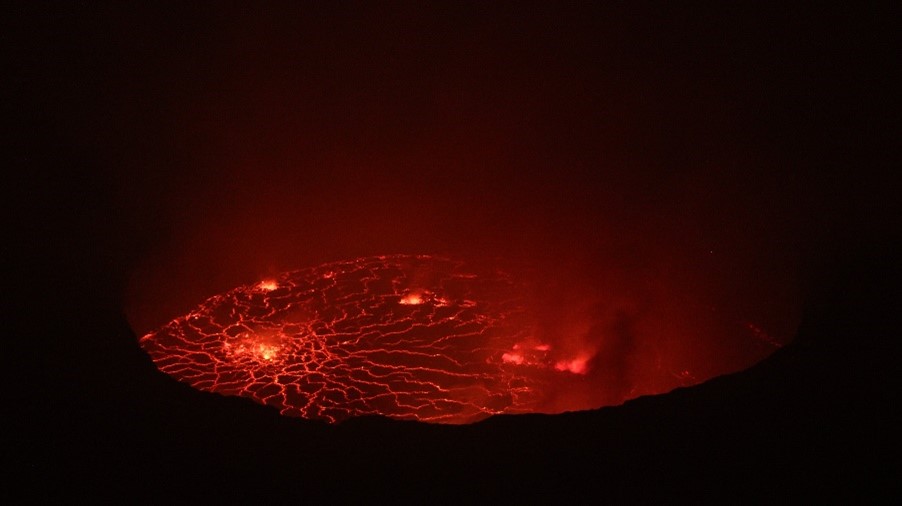 After witnessing what I did from the rim of Nyiragongo and returning to the city that lives in its shadow, I was humbled. To know that I had the privilege and opportunity to do what 99% of the people who live below the volcano never had and likely never will experience comes with a sense of guilt. It added to the separation I sometimes felt between the locals and myself; it's a reality that shouldn't be ignored. One must recognize, embrace, and accept it when traveling as a visitor.
"I felt I must try to accept the reality of it, embrace it and be more considerate and less judgmental. This was the Congo. This is what I was here to learn."
The tour group returned to Goma. Most folks were tourists and had an itinerary to follow that an eco-tour agent had arranged for them. A few were locals. Sonya, Charles, and Jean-Pierre met me at the Virunga office at the border. From there, we headed to a hotel, dropped our bags, and walked to a local restaurant. Every time I stepped foot into a street and out of a hotel compound, I felt like I was stepping between two worlds: a familiar world that felt safe, and the world surrounding me in the DRC.
Watching Jean-Pierre's body language as he walked down the street made me feel more at ease; he knew Goma and the ways of the city. It's good to have hesitation and take precaution, but why live in fear? I trusted him and his local knowledge. This was the best way for me to experience the city as a visitor and not entirely as a tourist.
The Project
The main objective of the trip was to survey the widows' current livelihood initiatives among several community groups. We met with a few groups of beneficiaries in Goma over the course of the next few days, many of whom Sonya and Charles had met in the previous years. The ladies welcomed us with warmth and kindness. I felt a personal connection to them. "The people I've heard so much about and relayed their stories time and time again: This is them" I thought. While Sonya and Charles interviewed the ladies, I documented the setting and conversations.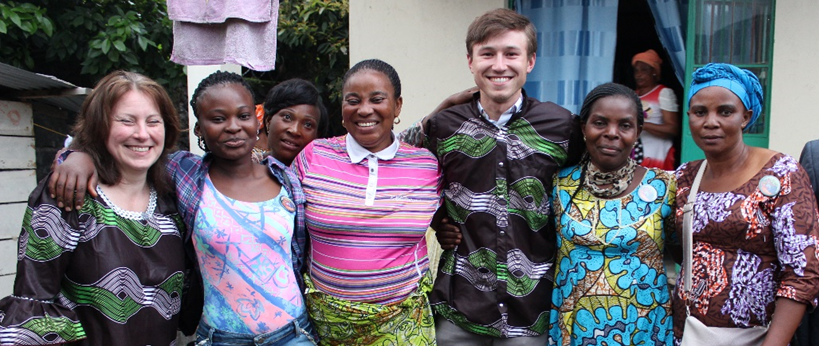 A fond memory of mine takes place in Jean-Pierre's Goma home when we all shared a delicious home-cooked meal. After eating, we stood beside one another (all 15 or so of us), held hands, bowed our heads, and prayed. I didn't know the words being said, but I knew the meaning: "Thank you Lord for bringing us all together so that we may help one another in this life". It was a moving moment.
In all our days in Goma, we shared stores: those of the ladies, the orphans, the teachers, and the fallen rangers. The streets, sounds, smells, places, and faces all became familiar. When it was time to leave, it was never "nice to meet you, goodbye". Instead, it was "thank you, I will see you soon".
After several days, it was time to visit ladies in other parts of the country. We headed towards the harbor in Goma, boarded the ferry, and shuttled overnight across the massive Lake Kivu. Bukavu is the other major city on the lake, located 62 miles across from Goma.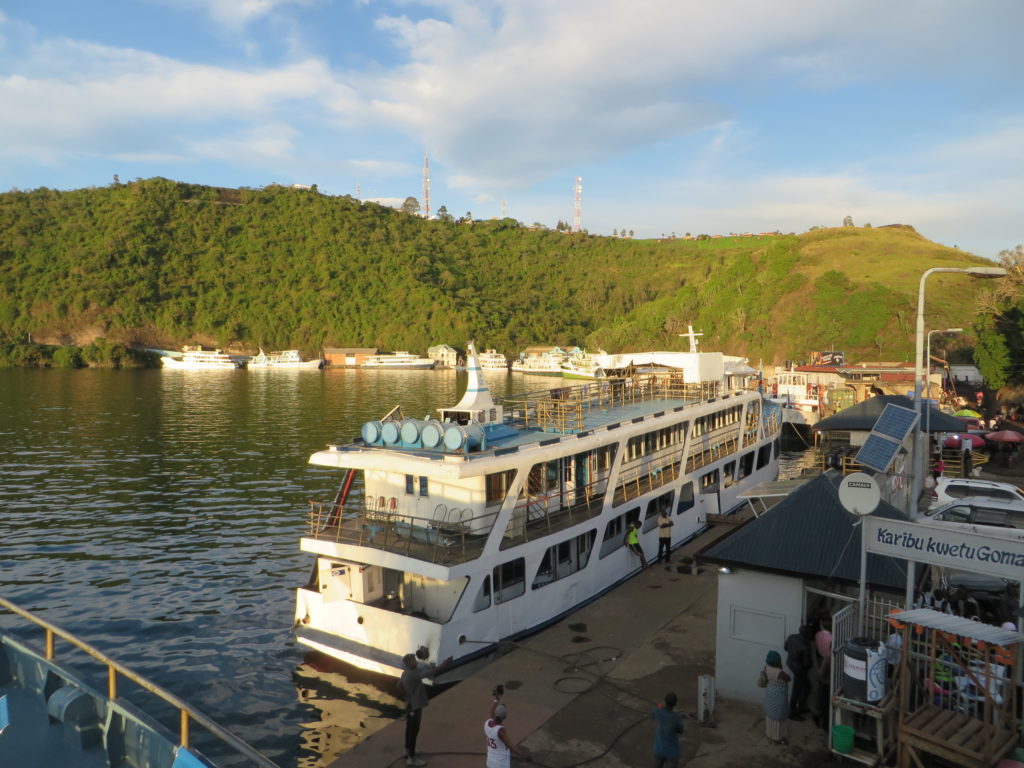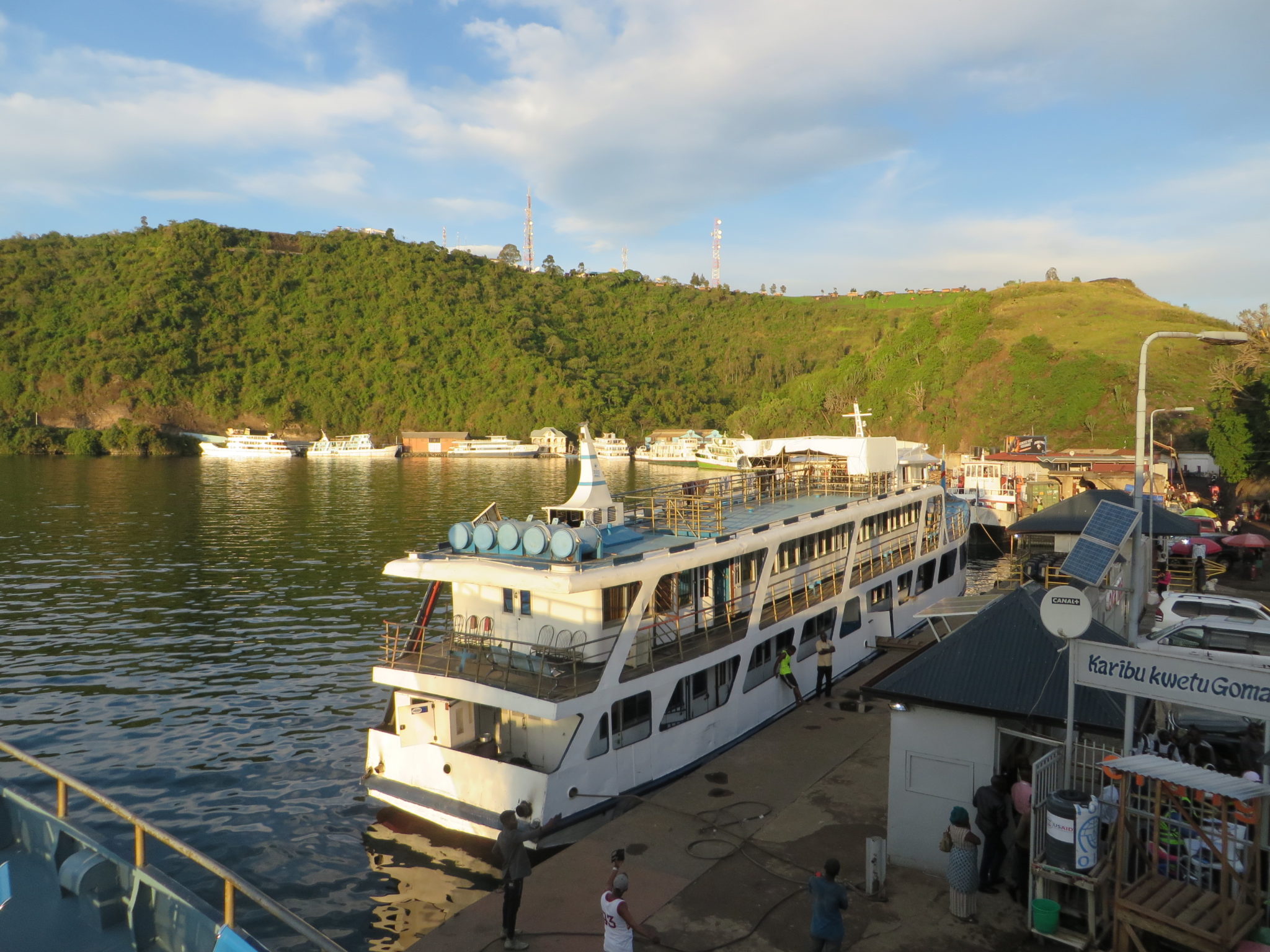 Breakfast buffets, sheltered excursions, sitting in hotel bars with sports playing, all the pleasures that tourists enjoy – were not the highlights of this trip! They were available but they didn't hold much meaning for me. What I tried to embrace were the people: the stories they told, their faces, the beauty of their homes, the values that they share, the community they have created to support and uphold one another. All the ladies we worked with had lost their husbands. All of them shared tragedy. And all of them shared community.
It was deeply moving but it also made me wonder, "Who was I? Why was I there? What good were the words that came from my mouth? What meaning did they hold?"
The second half of my trip to the DRC was spent in the villages to the west of Bukavu, where we met group after group of kind, hardened women. We danced; we sang; we cheered together. It was the best way to be welcomed and introduced to every community we visited. Time spent there was not taken for granted.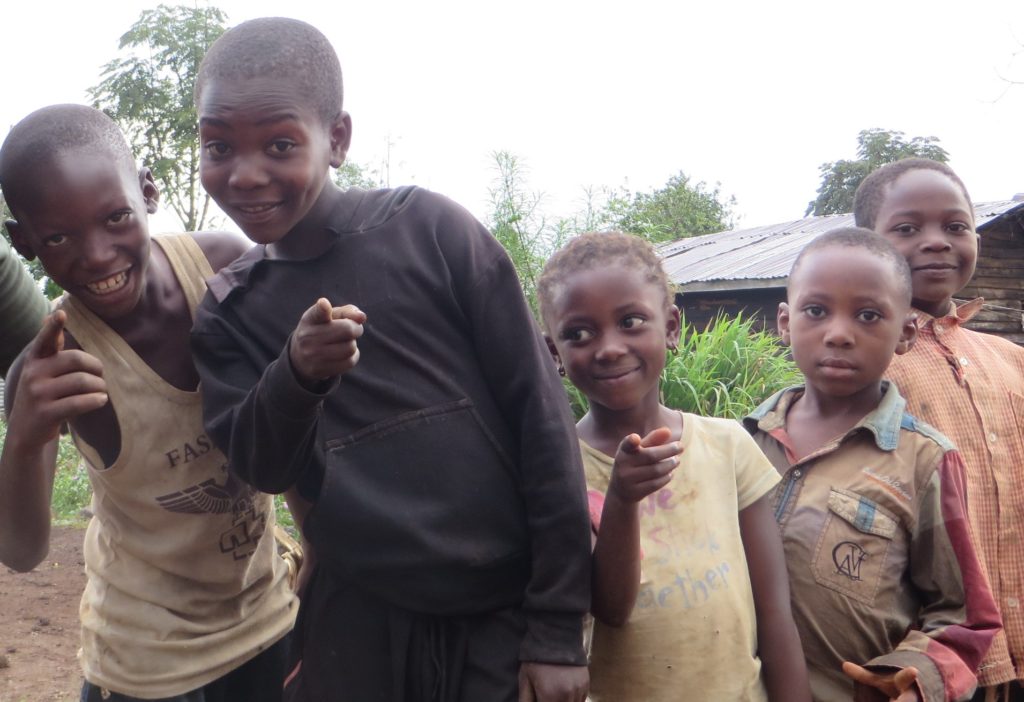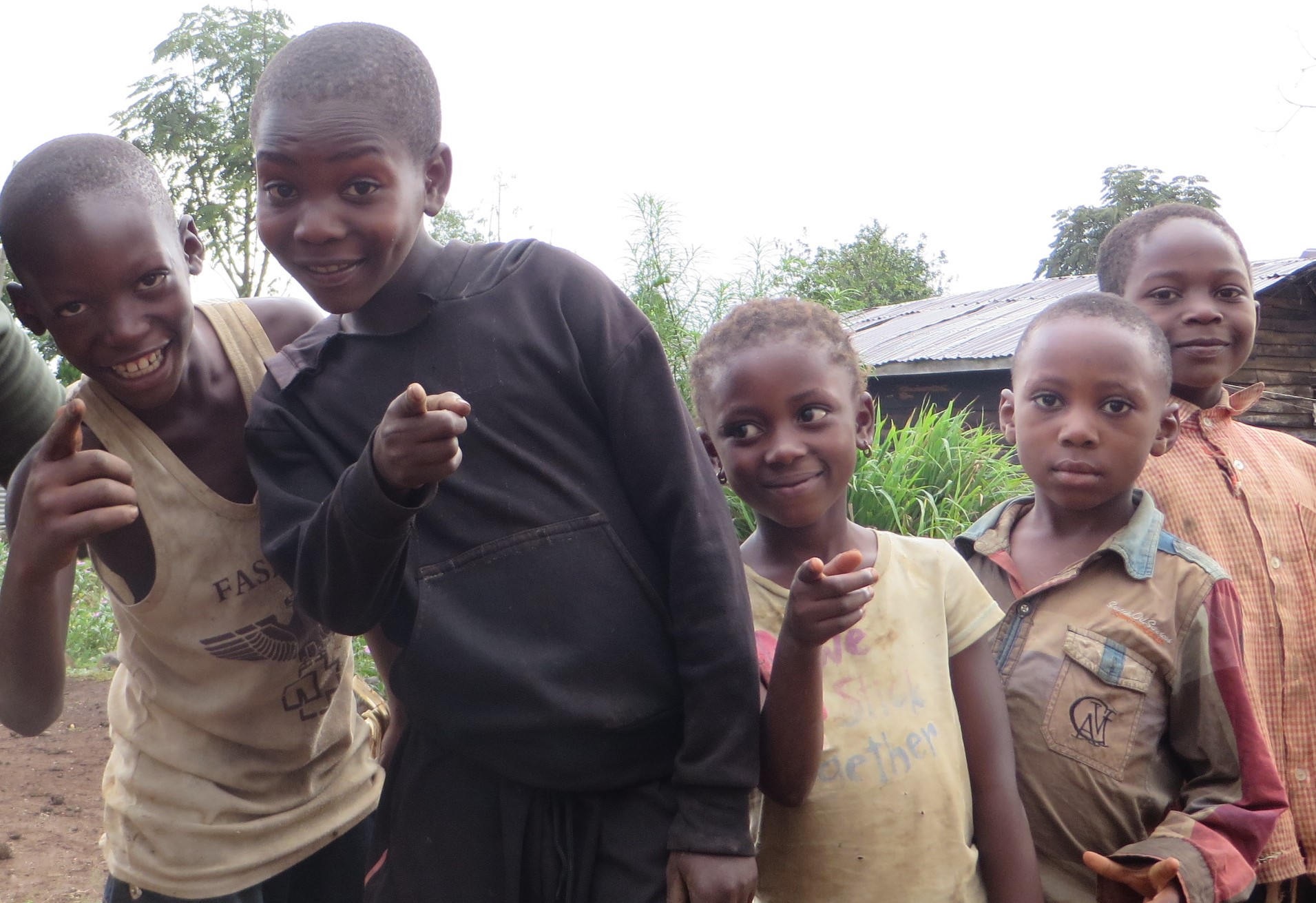 At Auberge Les Rosiers, a local community hotel in Katana, Jean-Pierre's childhood town, we met with Robert Mulimbi, a senior ranger at Kahuzi Beiga national park who helped with the project. We shared tea and a small meal. The staff were kind and the accommodation was lovely. We discussed the purpose of the trip, itinerary, and Robert's background and involvement. I sat and listened intently to stories depicting Robert's career as a ranger who habituated some of the first gorillas at Kahuzi-Biega. His work allowed for people to visit the park, go on treks, and stand near wild gorillas. It was unique and compelling.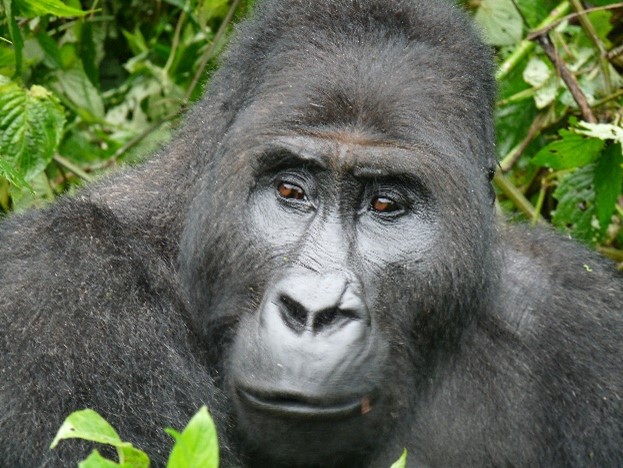 I won't describe every single moment and memory I made. Being with Jean Pierre, who is well known and respected in the communities we visited, ensured that no situation was ever "too dangerous". Whether we were staring into a huge lava lake, in the middle of city chaos, or face to face with wild gorillas, we were always well taken care of.
Throughout the trip, I was faced with difficult situations, tearful interactions, and lively celebration. The Eastern DRC is a place that has witnessed humanity's darkest, most evil ways. You can still see the aftermath of colonialism, mass genocide, and the living victims who are permanently scarred, both psychologically and physically. People struggle to survive, but their strong level of resilience was clear when I met them.
So to the friends I made, I would like to say, "I will see you again, soon". There's no way for our small charity to change the lives of everyone in the DRC but we can try to help enable the ladies, the families of fallen rangers, and current rangers to find ways to support themselves and ultimately bring their communities up with them. If there is a God, He placed me here to be part of this cause.
It was a surreal journey, and I'm grateful in more ways than one to have been able to share meals and space with some of the strongest, hard-willed women that I have ever met in my life. We were a team on that trip, and we always will be. If you ever get a chance to visit, I encourage you to do so.